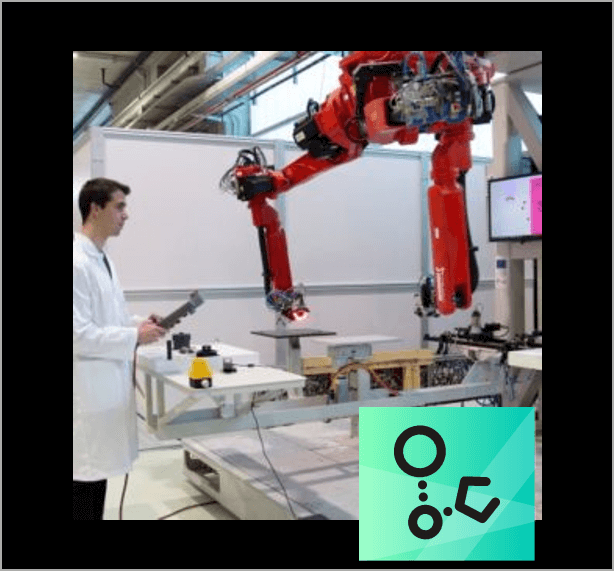 The Basque Digital Innovation Hub, through its flexible and collaborative robotics node, attends to the industrial needs related to the manufacture and assembly of components, offering different solutions to companies that require specialized robots for the assembly, milling, deburring, drilling, screwing or reworking of parts, among other functions.
These solutions free operators from hazardous and repetitive tasks, improve quality by eliminating errors and reducing variability, and help reduce manufacturing costs.
Milling, deburring, drilling and grinding of components
For those needs related to this type of operations, the BDIH makes available to SMEs through one of its members, Ideko, its cell for research on robotic machining. This cell is composed of a heavy industrial robot Stäubli TX200 with 100 kg nominal load, carrying a 14 kW electro-spindle, 24000 rpm, HSK-F63 cone and liquid cooling. It also incorporates a rotary table with the capacity to turn pieces of up to 1500 kg in interpolated movement with the robot, and an automatic loader for 6 different tools, which allows the testing and validation of various functions. The cell is programmed by G-code manually or by CAD/CAM Autodesk Delcam PowerMill Robot. It also has a kinematic and dynamic model in Matlab/Simulink as a "virtual twin" and incorporates a process data monitoring and analysis system in the cloud and a real time process control system programmable in Matlab or Simulink. Thanks to the technical characteristics of this cell, different feasibility studies, tests and analysis of results can be carried out when milling, drilling, grinding and turning parts made of different materials such as aluminium, composite, carbon, fibreglass, polymer, resin and sand.
Assembly, screwing and deburring of components
If the industrial need is related to the assembly, bolting or deburring of components, the BDIH offers through its member Tekniker, a robotic system for flexible assembly of objects and tools, which can also be configured to perform pick & place operations, i.e. pick and place of objects or positioning of a tool on a specific object, both in conventional and collaborative mode. It consists of a manipulator robot with 6/7 degrees of freedom, equipped with three vision systems that can be configured for use in two functions:
detection and identification of the position of the parts on a given surface or in a container
area monitoring to avoid collisions in case of collaborative mode operation
This cell offers the possibility of evaluating the feasibility and proposing the automation of operations related to: bin-picking; that is, selection and extraction of parts stacked randomly in a container, using a vision system for recognition and location, and a robotic system for extraction and subsequent relocation, operations on parts that require tool positioning such as screwing / deburring; continuous tool control on the surface for polishing and inspection operations. The cell allows the analysis of requirements linked to cycle times, variability in positioning, safety in collaborative mode, etc.
Assembly, manufacturing, screwing, polishing and deburring of components
The member of the BDIH UPV/EHU offers its robotics and autonomous systems laboratory, data analysis, statistics, automatic learning and computer vision, and the possibility of managing and handling different sensors (cameras, lasers, kinects, thermal sensors, ultrasounds,…) and using them, in this case, for additive manufacturing, assembly and handling of parts. In addition, this automation can be oriented to the detection of people or object recognition. It also has logical assets for the implementation of human-robot interaction methods, both gestural and spoken, based on natural language processing.
Do you think these solutions fit the needs of your company? Would you be interested in using these assets to optimize your processes? Do you think these solutions are complementary to those that have appeared in previous articles? If so, do not hesitate to contact us and we will offer you advice and measures tailored to your case.