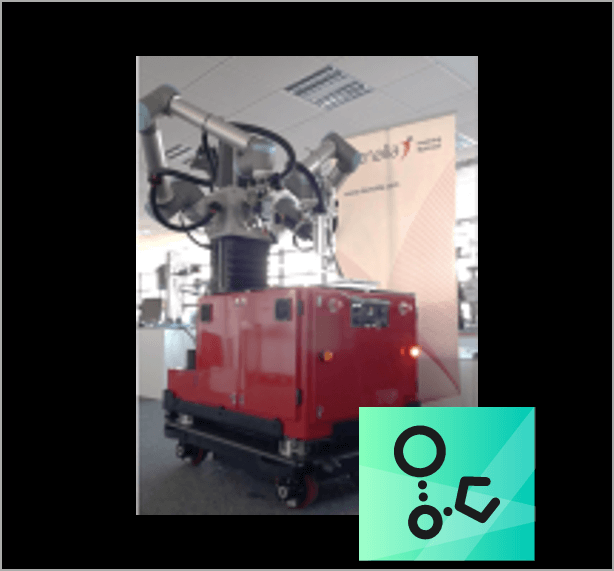 In this article from our "solutions 4.0" series we present the robots that provide the solution to specific needs in quality control of parts; from dimensional and surface control of produced parts using 2D/3D vision to integrity and defect control through 3D vision technologies, ultrasound and thermography.
These technologies make it possible to optimise processes where parts designed, manufactured and developed are increasingly complex and require more advanced and extensive inspections with greater reliability and precision in measurements.
Robotic cell for inspection/measurement of components using non-destructive techniques
The flexible robotics node of the BDIH benefits from a cell that allows analysis for quality control and non-destructive inspection of parts. The system, provided by member Tekniker, can be configured to perform inspection and measurement operations using various technologies including thermographic and multispectral vision cameras and different types of image processing algorithms.
SMEs can take advantage of trialling these technologies which consist of 2D or 3D vision systems, non-destructive inspection equipment (multispectral, thermography), and infrastructure to simulate different configurations and working conditions on the part. The inspection systems can be applied to various applications and the cell allows both 2D/3D dimensional control and the detection and identification of surface defects. With this cell, companies can evaluate the feasibility of performing inspections both online and off-line, assessing requirements linked to resolution, cycle times, etc. and also automating solutions for both quality control and part handling.
Inspection systems for integrating into robotics solutions
The BDIH also makes available to companies, through member LORTEK, a set of robotic inspection systems, which make it possible to carry out the automated surface inspection of parts. Your company can find out how to reduce inspection times while increasing production, as well as improving the quality of conventional inspections. Such systems provide a more accurate inspection, avoiding the level of human error present in traditional techniques such as penetrating liquids or magnetic particles.
This advanced technology cells offers knowledge, know-how and equipment for the piloting of ultrasound as a methods for inspection and has Class 1 insulation for the use of laser systems for highly efficient applications.
Do you think that these solutions fit the needs of your company? Would you be interested in using these assets to optimize your processes? Do you consider these technologies to be complementary to those that have appeared in previous articles? If so, do not hesitate to contact us and we will offer you advice and tailormade solutions.