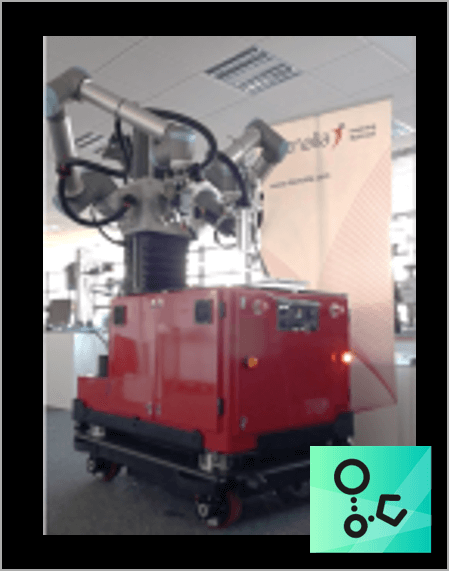 Robotic 4.0 solutions to support collaborative and flexible manufacturing.
In the context of our robotics month, the SPRI group is showcasing new 4.0 robotic solutions offered by BDIH members that increase production flexibility and worker safety in the manufacturing environment.
For some years now, Basque companies have been recognising the role that robotic solutions can play in an environment where manufacturing on demand is becoming increasingly important.  The number of robots sold worldwide last year was 384,000[i]. Thus, the global industrial robotics market exceeded 40 billion euros and is expected to grow by more than 50% by 2024.
These figures show a change of trend towards a more connected industry in which "collaboration" between workers and robots prevails.
This is where the BDIH's flexible collaborative robotics node provides tailored support to companies for the introduction of collaborative robotic solutions where robots facilitate the work of companies and individuals working in a given manufacturing environment.
The node makes available to industry assets that include the automation of handling operations, either of parts or of tools on parts.
For those Basque companies that have robotic cell environments, which are essential in mass production environments, the node, through its TECNALIA member, makes available to companies Vulcano, a mobile dual-arm manipulator robot with autonomous omnidirectional navigation and 3D vision guidance and force control.
One of the examples of increased efficiency in the manufacturing process is in the measurement of the quality of the final part. In this case, artificial vision allows the automatic measurement of the part, as well as the comparison of the 3D model with the final result of the process.
Additionally, the robot paths can be modified without having expert knowledge in robotics and without writing lines of code, although a design of the robot workspace and the parts/parts involved in the handling is required.
The COVID-19 will pass. And although it is not possible at this time to calculate the impact on the company, it is clear that it is essential to take advantage of the forced stop to explore the ways and resources that can bring more resilience to the company and its workers.
Contact us to find out how we can bring your company closer to the solutions that matter most to you.
_______________
[i]Industrial robot market size: global including peripherals 2018 & 2024. Statista