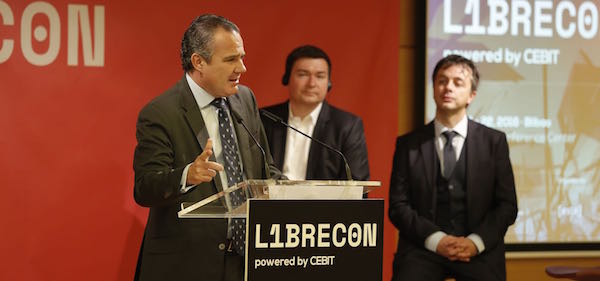 ESLE and Deutsche Messe, the organizers of Librecon and CEBIT, have reached an agreement to stage "Librecon Powered by CEBIT" – the open knowledge and technology forum – in November 2018 and 2020. The agreement was signed by ELSE President Eneko Astigarraga and CEBIT Vice-President Marius Felzmann.
This new edition of Librecon "Librecon Powered by CEBIT" will mark a qualitative leap and it also set to deliver a significant boost to the international positioning of the Basque open source technologies sector
The signing was witnessed by SPRI Director of Technology and Innovation Aitor Cobanera, the Provincial Councilor for Public Administration and Relations, Ibone Bengoetxea, and a member from Bilbao city council – institutions which have indicated their support for the agreement.
Bilbao and Bizkaia are ready to make a mark in the field of free technologies and open knowledge by launching the "Librecon powered by CEBIT" event in November 2018 – a forum set to become southern Europe's leading confab in the field of free technologies. The first edition of the event covered by the agreement between CEBIT and ESLE will be held from 21 to 22 November 2018 in the Euskalduna Conference Center, with the second edition taking place in November 2020.
"The emergence of digital technology has completely transformed our way of connecting, having fun, traveling and consuming. But that transformation is also penetrating areas such as industry, financial services and public administration. We want the new Librecon powered by CEBIT to help to accomplish this revolution and become a stage to promote the creation of new business models based on open source technologies," stated Eneko Astigarraga, President of ESLE.
CEBIT Vice-President Marius Felzmann described the agreement as "a unique opportunity to promote greater knowledge of open technologies and the economic development opportunities provided by free software."
"Librecon powered by CEBIT" 2018 will focus on topics like digital transformation, cybersecurity and the Internet of Things (IoT) and explore the relevant application areas such as public institutions, the financial services industry and the industrial sector.The event will feature several different areas reserved for conferences, product demos, specialized workshops, exhibits and networking.
This major international event is the fruit of an agreement reached by the Association of Free Technologies and Open Knowledge Companies of the Basque Country (ESLE) – producer of the previous Bilbao Librecon Congresses in 2014 and 2016 – and CEBIT, recognized as the leading global fair for technology innovations, staged in Hannover, Germany. CEBIT is annually staged by the prestigious German exhibition and conference organizer, Deutsche Messe.
"Librecon powered by CEBIT" was created with the aim of expanding the international scope of the previous Librecon events and positioning Bilbao as a key knowledge hub for free technologies. At the same time, it seeks to open new channels of collaboration between Deutsche Messe, an entity which organizes a total of 130 annual fairs in numerous professional/industrial fields, and ESLE, the Basque business association, made up of over 40 companies that specialize in free technologies.
So far, Librecon has been staged twice in Bilbao. Both times the event drew 1,500 visitors, with exhibitor displays filling an area of 1,200 m2. The forum attracted international speakers of note, such as the President of Red Hat, Jim Whitehurst, Telefónica CDO Chema Alonso and Taiwan's Digital Minister Audry Tang.
The "Librecon powered by CEBIT" event scheduled for 21 and 22 November 2018 aims to make a qualitative and quantitative leap compared with the two previous events. The organizers expect it to become a showcase for recent advances in the field of free technology and their potential for the creation of innovative solutions and new business models.In addition, the event aims to be a networking hub for international experts to facilitate the democratization of knowledge and promote an open culture throughout the production chain.
Created in 2012 by the National Federation of Free Software Companies (ASOLIF), Librecon has been held annually in various cities throughout Spain such as Zaragoza, Malaga and Santiago. Bilbao has so far hosted two events in cooperation with ELSE – in 2014 and 2016. The agreement signed with CEBIT will provide a decisive boost to converting the event into one of the main open technology fairs in southern Europe.