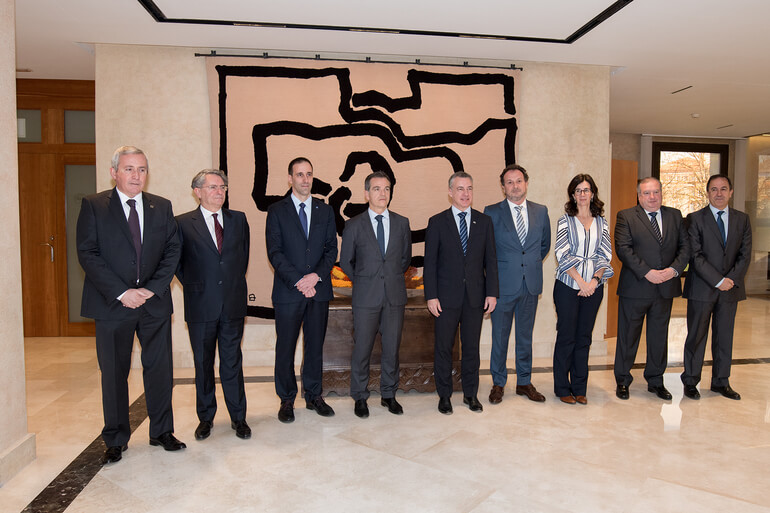 The Basque Government signs a collaboration agreement with six companies committed to boosting Vocational Training
This morning, at the President's Office, Lehendakaritza, the President of the Basque Country, Lehendakari Iñigo Urkullu, received representatives of six Basque companies that are collaborating in boosting vocational training. Top executives of Mondragon, Danobatgroup, Petronor, Uvesco, Tubacex and ITP, as well as the Basque Business Confederation, Confebask, met the Lehendakari and were able to analyze the current situation as regards worker training and also vocational training for students who will shortly enter the labour market.
After the meeting, the company representatives and the Lehendakari signed a collaboration agreement that will consolidate a fundamental relationship to work together to make progress. This boost is directed especially at the importance that dual vocational training is acquiring, especially to prepare future professionals for their career development in complex advanced technology environments. Moreover, the agreement signed today also addresses other equally important areas, such as the need to facilitate updated flexible training for people already working in companies, through specific training itineraries in which their experience is recognized. The document signed also reflects the high importance of acquiring specific skills for more complex work environments.
The joint work between these companies and the Basque Government is essential in order to face the speed of changes that are already taking place with guarantees of success; in order to be able to adapt the training required, for people to adapt to new employability requirements, and to enable enterprises to respond to new high competitiveness requirements arising from them.
To that effect, Mondragon, Danobatgroup, Petronor Uvesco, Tubacex and ITP have shown, like other companies that are also collaborating closely with vocational training, their interest and commitment to carry out actions of this kind. The agreement signed today reinforces their commitment with a model which is needed and is already producing good results.