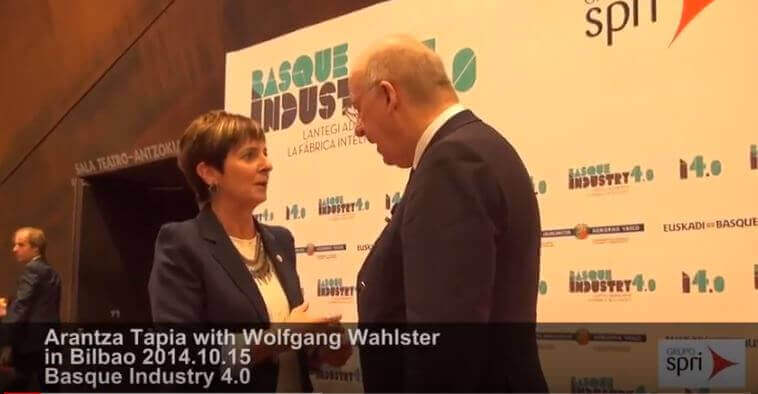 Arantza Tapia
So, Professor Wahlster, what do you think is the most important thing in Germany, the main objectives for industry 4.0?
Professor Wahlster
I think that it's very important to go to the next wave of industrial automation because we want to keep both the production sides inside Germany but also want to export this technology to other countries and it is very important for our workforce because we have an elderly society, ageing society, we want to keep the workers longer in the factories, we have to support them and also we want to have green and urban production, we want to have zero emission production.
Arantza Tapia
Do you feel that the Basque Country can work in the same field? because we have small companies that have been producing and manufacturing a lot of products but we have to get ICTs and put into the factories and that is the main issue for us because we have ICT companies and on the other side manufacturing companies but we have to bring them together, to work them together.
Professor Wahlster
Exactly, I think the Basque Country is a very good place to do this because you have the big tradition in manufacturing and you have very good spinoff companies, research institutes and ICT and now if you bring them together especially the small ones and the research institutes I think there is a good chance that you are leading and cooperating with Germany and the industrial revolution all over Europe because it's clear we cannot do it in Germany alone, we need people from Basque Country to boost it and empower Europe to create new jobs and have a good surplus from exports.
Arantza Tapia
There is one point you have been talking about, the CO2 issues, green efforts and  small cities and companies in the city centres, I think that's a good thing for us, maybe we can collaborate from the German point of view and the Basque Country?
Professor Wahlster 
I hope very much, I think it's a very good productive structure you have and I think you have, as I said, the tradition is here and people understand to work hard in manufacturing and you have very good workers and it's a nice place, I think it would be very good to have a closer cooperation.
Arantza Tapia
Thank you very much for being with us and I hope we can collaborate in the near future.
Professor Wahlster  
Thank you, thank you.